Author: April Daniels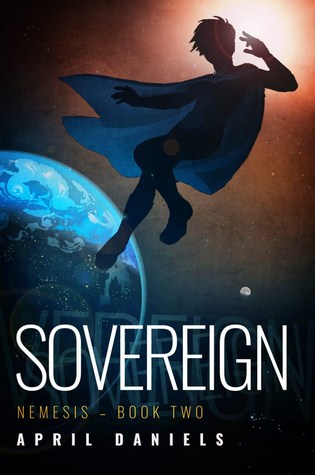 Publisher: Diversion Publishing
Publication Date: 25. July 2017
Rating: 4./5. Stars
Diversity: LGBT Characters (trans woman, nonbinary, lesbian, bi), PoC (Iranian-American, black) Disabled Characters (missing limb + prosthesis)
TW: transphobia, mass murder, misgendering, torture, child abuse, abusive parents
Summary: Only nine months after her debut as the fourth superhero to fight under the name Dreadnought, Danny Tozer is already a scarred veteran. Protecting a city the size of New Port is a team-sized job and she's doing it alone. Between her newfound celebrity and her demanding cape duties, Dreadnought is stretched thin, and it's only going to get worse.
When she crosses a newly discovered supervillain, Dreadnought comes under attack from all quarters. From her troubled family life to her disintegrating friendship with Calamity, there's no trick too dirty and no lever too cruel for this villain to use against her.
She might be hard to kill, but there's more than one way to destroy a hero. Before the war is over, Dreadnought will be forced to confront parts of herself she never wanted to acknowledge.
And behind it all, an old enemy waits in the wings to unleash a plot that will scar the world forever.
Order here: amazon
Disclaimer: I received an e-copy of this book on NetGalley in exchange for an honest review.
*-*-*
If you liked Dreadnought, you will probably also enjoy this sequel. I definitely did.
In this sequel, Danielle starts dealing with her superhero-live for real. Most of the Justice League is dead, wounded or retired and so she is the only superhero left in Portland to deal with criminals. Between PR work, caping for the entire city, her abusive parents trying to get access to her money and, of course, super villains, Danielle has a really hard time dealing with it all. To top it all off, her only friend Doc has become an alcoholic to deal with what she dead and Calamity doesn't talk to her anymore.
There is a lot going on this book and it follows punch after punch constantly. I really enjoyed the pacing because of that. Neither you nor Danielle really get the time to slow down and take a deep breath, not with all these things going on. Despite this, we get to know some new characters, like Kinetiq, a nonbinary Iranian-American superhero (tbh I really, really love them and I hope they play a role in the next book too), and Karen, the daughter of Valkyrie, who really doesn't want to be taken over by her mother's memories and become the next Valkyrie. We also get a bit more insights into other characters, like Sara's mother (I also hope that she will play a bigger role in the next book because she is awesome and terrifying) and Doctor Impossible.
Despite all this drama going on we also get some light moments, where Danielle cracks a joke or show her superhero fangirl side, which lightens the mood and make Danielle seem much more like the teenage girl she actually is. You sometimes forget it, because she has so much going on and has to fight so many battles. She also definitely grew as a character, she became more confident and over the course of the book, she deals with some of her issues like the tunnel-vision and the incredible black and white view she sometimes has. I loved how many characters became much more gray instead of being perfectly black and perfectly white as they were in the first book.
There are a lot of fighting scenes (of course) and while they sometimes seem to stretch a bit, they were still really interesting and I enjoyed reading them.
And of course, Graywytch is still in the book, being a gross and intolerant person, except this time she goes even further and becomes even more terrible. Trigger warnings for transphobia, misgendering, abuse and torture. It is really hard to read at times and I felt so sorry for Danielle.
One thing I didn't like as much, was how the romance seemed to be a bit rushed. Don't get me wrong, I love those two and I'm so glad they ended up together (and hopefully will now be happy together :3) but I would have loved some more build up between the we're fighting and the we love each other parts.
Other than that I actually really enjoyed the book. There is also some talk about intersectional feminism and how for example Dreadnought's and Kinetiq's experiences differ due to race. There are generally a lot more of non-white characters that are important to the story and I really enjoyed it.
All in all, this was definitely a worthy sequel and the ending is so good. Also, the cover really fits the story I think.